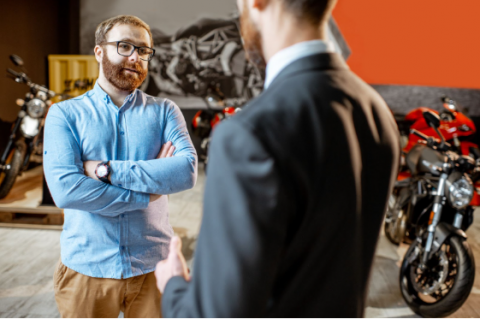 Choosing a motorcycle is an important step in your life, and you want to make sure that you're doing it right. You want to find the best motorcycle for you, but how do you do that? Ensuring everything is in places like having a trusted dealer, finding a motorcycle that's durable and worth the price, and finding something that will fit your lifestyle are some things you should consider.
Well, we are here to help!
Here are some things to keep in mind:
Find a Reputable Motorcycle Dealer

You should get your motorcycle from a reliable motorcycle dealer. An expert motorcycle dealer will not only assist you in comparing more possibilities on the market but will also make sure that you choose the motorcycle that is most suited to your riding requirements.
Ensure That It's Versatile Enough for Your Lifestyle

Maybe you ride long distances every day, or maybe you only ride short distances around town, but either way, check out the bike's range and see if it will allow you to do what you need to be done without being limited by its range. If it doesn't have enough range for your needs, look into getting an extended-range model instead of a regular one that doesn't have enough range.
Make Sure That It Can Handle All Weather Conditions Well

This is especially important if it's not just a commuter bike. If there's extreme heat during the summer months, consider spending more money on something that will be able to handle that type of condition well. As a rider, it is important to know that your bike has been maintained regularly and is reliable in all conditions.
Accessible Equipment

Make sure you can quickly locate the motorcycle's spare components when you need them for your own peace of mind. Even while motorcycle retailers have a sufficient supply of spare parts and tools, some bikes could need more expensive tools. Find out how much the bicycle accessories and other gear costs.
Know Your Budget And Stick To It

When buying anything, it is important not to spend more than your means. Stick to your budget and do not go for a motorcycle that's not within your budget. Making a budget simply entails analyzing your earnings and outlays to ascertain how much money you have and where it is being spent. Spending more than your means can cause debt.
To receive the greatest bargain possible, you should compare rates amongst several motorbike dealers. However, you should not sacrifice the quality of a bike to save a few bucks.
Look at the Warranty

Some warranties come with certain motorcycles, but they're not always listed on the paperwork. If there is a warranty, make sure it's good for at least three years.
Check Out Reviews Online

If you have time while shopping around, search online for reviews of other models of bikes from people who own them and love them. You can also go to forums where most people discuss their experiences with specific models.
Purchasing a motorcycle is an exciting choice. It could be so thrilling that you choose something "upon first sight" without giving it much thought. So, an important purchase like a motorcycle requires critical thinking. After all, the last thing you want after spending your hard-earned money on a high-quality bike is to get short-changed!