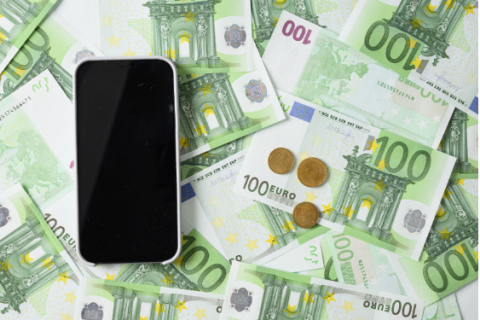 Devices make our lives easier while saving us valuable time and money. A single device will serve multiple purposes for us. This lowers the cost and makes devices more affordable. Using gadgets allows us to live simpler lives while having fun.
If you are in the market for a new cell phone or laptop, several options might be better than paying cash. First, you could take out a personal loan or credit card to pay for it, but those can be costly and often tie up your money until the debt is paid off. So, using a gadget loan instead of those other two options is your better option.
If you do not know what this type of financing entails, here's what you need to know:
What Is A Gadget Loan?

A gadget loan is a financial product that allows you to borrow money for a specific type of gadget. Usually, it is for a phone or laptop, but it may be for any electronic device.
For example, you could use the money to buy the product outright or pay off an existing contract. The amount of time you have to repay the loan depends on what your lender requires and how much they charge in interest.
What Does A Gadget Loan Do?

The goal of a gadget loan is to purchase an electronic device. Banks will loan you money for technology without requiring a credit card. The fact that many institutions provide this service is wonderful news.
You could use the money to buy the product outright or pay off an existing contract. The amount of time you have to repay the loan depends on what your lender requires and how much they charge in interest.
Why Do You Need A Gadget Loan

Whatever reason drives your decision, having access to quick cash makes life easier when it comes time to get what you need while still keeping track of all those payments! Most of the more common reasons why people obtain gadget loans are because their current devices are broken and because they are window shopping for a new gadget.
There are many reasons why someone might need a gadget loan:
Broken current device. Your current device has broken, and you do not want to spend a hefty amount of money replacing it. This can be considered an emergency since devices nowadays are part of our lives already.
With a gadget loan, you don't have to wait for your salary to buy a new one;
Window shopping for a new gadget. You are looking at buying something new but want to see if there are better options first. Window shopping is a common practice for people. Suppose you saw a device that interests you but doesn't have any budget for it. In this case, instead of paying full in cash, you can opt for a gadget loan or installments;
Novelty. You want to buy something new. When you have a new gadget, you enjoy newer and more upgraded features. In addition, it earns you more clout on social media.
Whatever reason drives your decision, having access to quick cash makes life easier.
Installment Plan For Gadgets

An installment plan is the best option if you need to make monthly payments. You will be able to pay off your loan in monthly installments without paying any fees. This can help you build up credit while buying the gadget of your dreams.
The minimum amount a borrower can borrow through a gadget loan depends on the lender. It also depends on the type of gadget being financed, whether it is a laptop, desktop, mobile phone, or tablet.
Origins Of Gadget Loans

Due to the pandemic and the unexpected switch of the new learning system, banks came up with the idea of offering gadget loans to students who are in need of financial assistance to finance the purchase of learning gadgets such as laptops and cellular phones.
Gadget Loans For Students

Banks and other institutions understand that it's important to help students adjust to distance learning modalities. While we wait for the start of regular lessons. With the aid of a gadget loan, students can acquire the funding they need to buy the necessary learning tools and take part in online classes.
Gadget Loans For Adults

Adults who require additional cash to buy a gadget can also apply for gadget loans.
Pros And Cons Of Taking Out A Gadget Loan

There are a few reasons why you might want to borrow money for your technological device. For one, it is actually pretty hard to get a loan for a laptop or phone if you do not have the cash upfront.
Secondly, most people do not have hundreds or even thousands of dollars sitting around just waiting for new gadgets.
So if you are already spending money on rent and bills like food, transportation, utilities, and more—and these things are taking priority over buying yourself something fun—a gadget loan could be the answer.
Pros:
No need to wait until payday (or beyond).
Fast online application
Improves your credit score
Cons:
Interest rates will add up quickly if payments aren't made on time each month
Companies may even charge late fees on top of this interest rate increase.
Where Can I Get A Gadget Loan?

Finding a reputable loan lender who can help you when you need some money for your personal reasons is quite difficult due to the rampant frauds and scams. So, to help you with your gadget loan, here are some of the reputable banks and institutions that offer gadget loans.
Fundline

At Fundline, you can loan up to 100,000 PHP. Applications can be made through Fundline's partner stores such as Abenson, Automatic Centre, Tech101, MemoXpress, Gaisano Capital, and Our Builders Warehouse.
Additionally, buyers will be required to give a down-payment of at least 10% of the item's total cost. Depending on the credit evaluation, this sum may increase.
Cebuana Lhuiller

The gadget loan from Cebuana Lhuillier is only good for one month. The issue is that you won't receive a device with this loan. As a substitute, you will pawn your device with the business in exchange for cash. On the official website, you may find the prerequisites for the Cebuana Lhuillier loan application.
Try Cashalo gadget loan if you're looking for a pawn shop where you may borrow money and purchase a device. Once more, the Cebuana gadget loan is not a loan for a gadget purchase. You pawn your device and receive a loan in exchange for it.
Landbank

The Land Bank of the Philippines (LANDBANK), a state-run financial institution, has increased the scope of its direct loan program for students to cover purchase of electronic devices required for online education.
In accordance with the expanded I-STUDY Lending Program, LANDBANK is now providing loans of up to P50,000 per student to cover the cost of learning tools like laptops, desktop computers, and tablets. These loans can be combined with the P150,000 per student or P300,000 per parent-borrower maximum loanable amount to pay for tuition or other enrollment-related costs.
How To Get A Gadget Loan

You can get a gadget loan through your bank or credit union. To do so, you will need to fill out an application and provide proof of income, employment, identity, and residence. The amount you are approved for will depend on the type of device in question (i.e., a phone or laptop).
In addition, there are also loans available online where you can get a loan in just a few clicks.
Know Your Options

If you are planning to make a purchase soon, you will want to know how much money you can pay before committing to a gadget loan. So before making your decision, consider the pros and cons of saving up for the gadget you want or getting a loan now.
How Much Cash Do You Need

When applying for a cash loan, the amount of money you need is the most crucial factor to take into account. Additionally, you should be aware of how long it will take you to repay the loan if it is not repaid in full when it becomes due.
Therefore, you must ensure that this amount is enough so that you do not end up repaying more than the original loan amount.
Tips For Gadget Loan Application

If you want a gadget loan, there are several things that you need to be aware of. This will ensure that you can successfully apply for your gadget loan and enjoy the benefits of owning one.
Check First The Available Gadget.
Whether you're applying for a loan online or going to a branch, always make sure that the gadget is available first. You can check this by searching your nearest branch on Google and seeing what gadgets they offer.
Submit All Necessary Documents.
To avoid delay and rejection,make sure to submit all needed documents for your application. Once you've completed your application and submitted all necessary documents, it's time to wait for approval.
Pay The Required Monthly Installment On Time.
If you fail to pay monthly installments on time then late payment interest rates might apply along with an additional charge levied by banks. Late payments will negatively impact your credit score, while paying on time is a good way to keep it in good shape.
Buy Your Dream Gadget with Fundline

Sometimes, as much as we may not want to admit it, a new gadget or smartphone can be financially out of our reach. If you want to buy a new laptop or phone but do not have enough money to do so, then applying for a gadget loan is something that you might need. Applying for a gadget loan is relatively easy, and you will not go through a lot of hurdles and difficulties. You can go to a bank or apply online. With several lenders around, Fundline is your best option.
Fundline is a finance company that provides financial services for your needs such as gadget loans for your online class or new laptop out on their website or by email. Fund your gadget with Fundline now!